With pancake day rapidly approaching, we've cracked open the golden syrup, heated up the pans and mixed the batter to prepare a list of our personal pancake favourites from across Manchester.
Fluffy Fluffy
As the name suggests, Fluffy Fluffy serves up Japanese-style 'fluffy souffle' pancakes. Their pancakes are known for their extreme fluffiness, which is achieved by whipping the batter with egg whites. They offer a range of flavours, including classic butter and syrup, matcha and red bean, and mixed berry. The standout dish is their souffle pancake tower, which is a towering stack of fluffy pancakes served with whipped cream, fruit, and syrup. This unique style makes them a must-try to make Pancake day feel like a real treat again.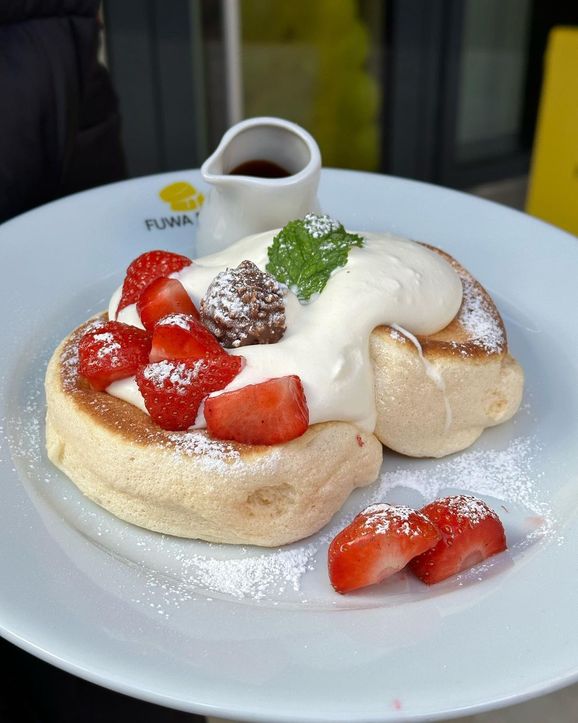 19 Café Bar
19 Cafe Bar are already well known for their huge range of decadent and incredibly creative pancake specials so it only feels right to include them in our must visit locations this pancake day. One for those of us with a larger than average sweet tooth, 19 Café Bar focus on the sweeter side of things. Served on 3 American style pancakes, customers have the pleasure of choosing between indulgent flavours such as Kinder, Biscoff and Oreo as well as your usual pancake classics. These topped stacks have a little bit more to them your average lemon and sugar but they're worth every bite.
Moose Coffee
This legendary breakfast spot have taken the best part of ten years to perfect their pancake recipe and it's been worth every second. These American style pancakes stacks are big, In your face and seriously tasty. Served with a range of classic toppings such as maple syrup & butter, blueberries, hazelnut spread or bacon there's something here for everyone. If you're looking for something even more heavy duty they've got you covered too with their Moose Stacks; stacked pancakes topped with either apple & salted caramel, granola & chocolate peanut butter or banana & Pecan.
The Koffee Pot
Alongside a range of classic breakfast options, The Koffee Pot serves up classic American-style pancakes with a British twist. Their "Bacon and Syrup" pancakes are a popular choice, featuring crispy bacon served on top of fluffy pancakes with a drizzle of maple syrup. They also offer a vegan pancake option made with oat milk, and a gluten-free pancake option made with almond flour. For a truly indulgent treat, try their "Double Stack" pancake tower, which is two stacks of pancakes served with whipped cream and syrup.
Lazy Sundaes
Finally we've got Lazy Sundaes, it's no surprise were seeing the return of their Souffle style pancakes after their initial popularity. This time round they're treating us to 2 spectacular specials, the choco strawberry souffle pancake and the cookies & cream Souffle pancake which followed by a quick scoop sounds like the perfect pancake day treat.
Think we've missed any? let us know over on our
socials
.