The humble sandwich, we all know and love it and how could you not? The perfect snack for any occasion and an undeniable, stone-cold classic. Although they're by no means a new concept, we are seeing a changing attitude in our city to the need for a good sarnie on the menu. We've put together the establishments leading the charge on Manchester's sandwich renaissance.

Currently residing in both Gasworks and the Ancoats General Store, Mira is the Cuzzetiello King of Manchester. Specialising in the Neapolitan classic, the Cuzzetiello (essentially a hollowed out half loaf filled with a plethora of delightful ingredients), Mira have gained a name for themselves with these incredibly stuffed sandwiches. Taking clear inspiration from Naples, these Sandos really are a love letter to Italy, from the cured meats & provolone in 'The Diego' to the rich ragu in 'The Balls' the Italian influence is there for all to see. Although their tenancy in both gasworks & AGS finishes at the end of January, there are hints that they'll be relocating to their very own 'sandwich shack' soon enough. Keep up to date with Miras move on their Instagram.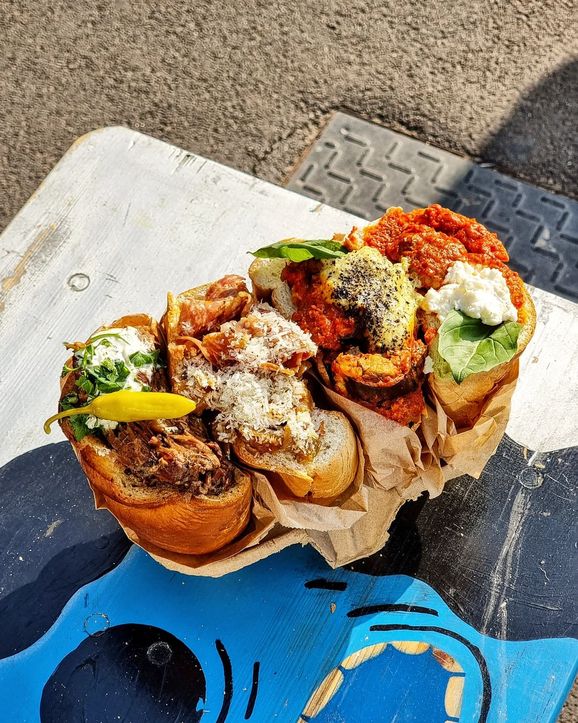 Lazy Tonys may be best known for their unbelievable lasagna slabs – they really are that good by the way. Layers upon layers of creamy bechamel and ragu are combined with fresh egg pasta to make a lasagna so good your Nonna would cry - but their subs are also a show stopping affair. Taking their approach from Italian-American culture, these sandwiches may be big and in your face but the flavour profiles are an intelligent and thought through affair, each a classic in its own right. Tony's subs are all served hot and fresh so we'd recommend you enjoy it there and then however the 'Cold cuts' sub is always an option for those on the run.
Within the Hallé St Peters, you'll be able to find the rather understated Café Cotton. Clean, quiet & low key this extension of the established music hall houses a hidden gem, their sandwich counter. Thick focaccia, continental classics and a wide enough selection of meats & cheeses to leave half of Ancoats salivating make Café Cotton a lunchtime must.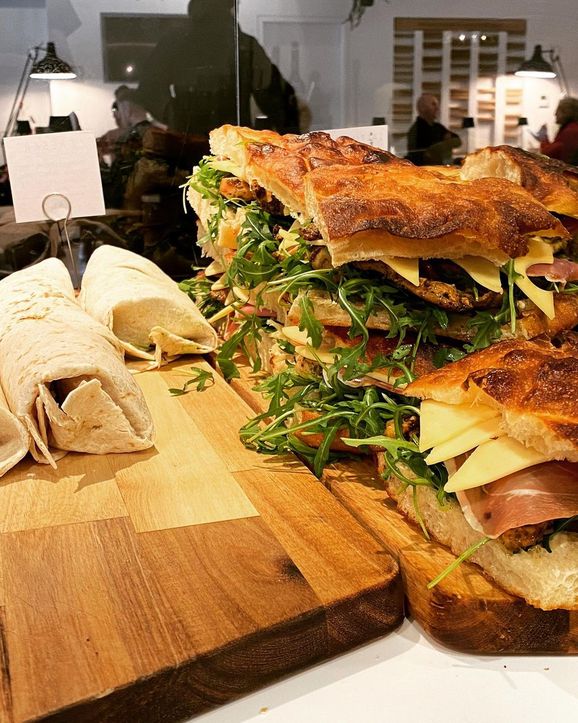 Fat Pats keeps it simple. 4 options on the menu, 8-inch subs and made to order sandwiches (make sure you're up early to get your order in). What's not so simple about these near perfection subs are the flavours, the freshly baked bread and well, eating them. These delicious hoagies are a messy affair and it only adds to the experience, alongside the fact that Fat Pats is a pick up only situation from a hole in the wall in a tiny side street (which almost makes us feel like we're in a poorly written crime movie).
Is it a sandwich gaff? No. Does it do one of the best Banh Mis we've ever tasted? Absolutely. Only served until 4pm, this traditional Vietnamese sandwich is an absolute joy. Coming with 5 potential fillings (chicken, char siu, stir fry beef, king prawns and tofu) and served with either sweet soy sauce, Sriracha mayo or Sriracha as a dipping sauce it really is a trip to Vietnam with every bite.
Finally what list about Manchester's sandwich heroes would be complete without a mention of the godfather, the OG, the veteran that is Rustica. Slinging sandwiches for over 20 years, Rustica holds a special place in the heart of Northern Quarter residents. With lightning quick service, friendly faces and a sarnie for every occasion it's no wonder They've has stood the test of time.
Think we've missed any? Let us know on our socials