EVERY picture tells a Story and this one tells 20 of them as a kind of 'First Supper' celebration for Manchester's most eagerly awaited new restaurant of the year. Unlike Leonardo's 13-strong Last Supper upon which – as they say – it's loosely based, no one here is a Judas, everyone is a Manc hero.
Subjective and provocative, commissioned by 'incomers' D&D London, this 8ft x 4ft canvas was unveiled at the official launch of their 20 Stories restaurant/bar at the top of the No1 Spinningfields tower on Wednesday, February 28.
To ToM's eyes this (cue PR speak) "stunning new painting by an acclaimed art collective" looks a mixed bag artistically; we'll leave it to the I Love Manchester collective to lament who has been wrongly left out of this depiction of 20 of modern Manchester's most influential leaders. That's the whole (talking) point, but can't we be allowed to look for the hero inside ourselves? And we're not petitioning for M People to be in there!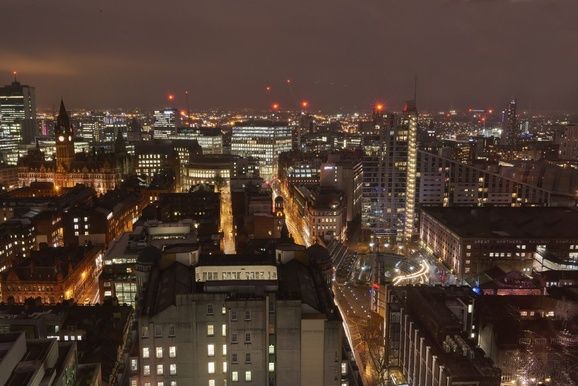 Honorary Manc Ariana Grande makes the cut and it's great to see the Blue half of the city represented by the immortal Colin Bell in the pantheon grouped around Aiden Byrne. This proud Liverpudlian had to be there. After sterling service at Manchester House he's Chef Director of 20 Stories.
The painting has been created by Manchester-based street-art muralist duo Nomad Clan – aka female artists Cbloxx and AYLO in partnership with Manchester PR and Digital Marketing agency Roland Dransfield.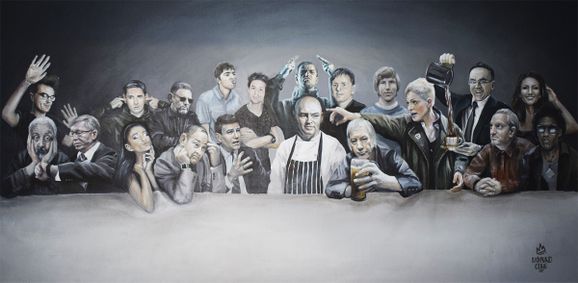 The cast includes a mix of famous born or adopted Mancunians. Here are Liam and Noel Gallagher, poets Tony Walsh and Lemn Sissay, football legends Sir Alex Ferguson and Bell alongside United star property magnate Gary Neville, film director Mike Leigh, Greater Manchester Mayor Andy Burnham, former council boss Sir Howard Bernstein, actresses Maxine Peake and Michelle Keegan, radio and TV presenter Nick Grimshaw, musicians Morrissey, Shaun Ryder and Clint Boon, movie director and producer Danny Boyle and Sacha Lord, the man behind Warehouse Project and Parklife.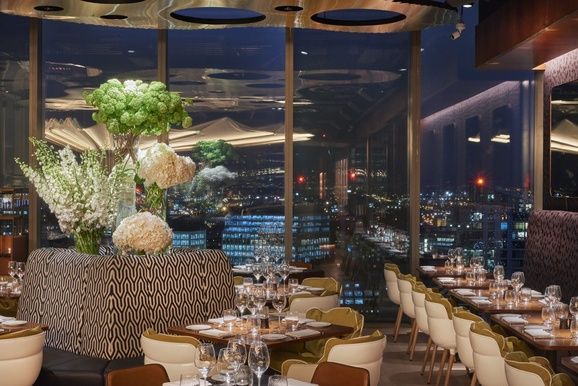 Des Gunewardena, D&D London's chairman, said: "The chef's table is iconic in restaurant terms and we wanted to use this icon to create Manchester's most influential chef's table for our launch event. The painting is a bit of fun aiming to stir debate about who's at the table and who isn't. We've enjoyed imagining what they all would be saying to each other around that table – the plans they'd be hatching, friendships they'd be forging, partnerships they'd be cementing or, possibly, scores they'd be settling."
Nomad Clan, have risen to global notoriety, culminating in 'Athena Rising', officially the tallest mural in the UK, which now resides on the side of a tower block in Leeds and comes in at a monumental 46.8 metres tall and 11 metres wide.
20 Stories officially opens to the public on Thursday March 1. But diners can book tables at the restaurant now. Reservations via the following: www.20stories.co.uk [email protected], 0161 204 3333.
Don't miss ToM's fascinating interview with the D&D duo, Des and David.