Mount Street is the 'other' restaurant at The Midland; cheaper and more accessible than it's fine dining sibling, Adam Reid at The French. It was supposed to open back in April 2020 as part of a £14M refurbishment of the hotel by new owners Leonardo Hotels UK and Ireland, but the pandemic scuppered any full-blown launch.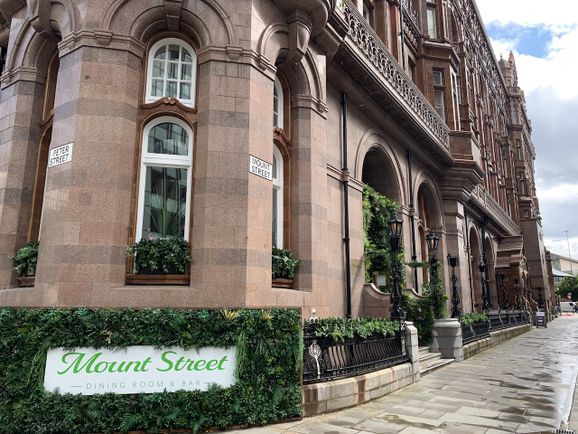 Mount Street replaces Mr Cooper's House and Garden which opened to much fanfare in 2013 with a rather eccentric fitout. It was supposed to quaintly represent the house which had occupied the site two centuries ago with sections of the restaurant dressed up as the library and the garden complete with pergola, a tree and parasols, etc. The result was disjointed.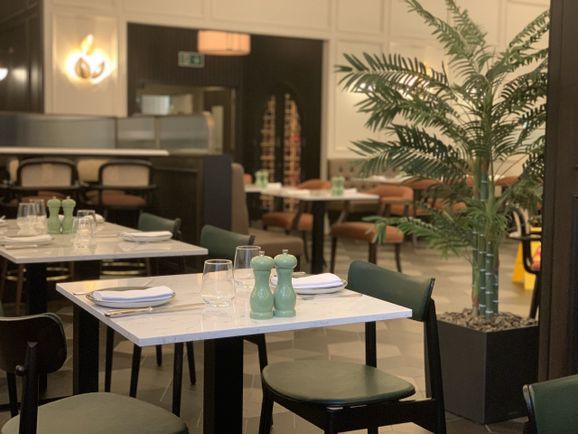 This new restaurant has a calmer, timeless setting. Dark wood panelling looks striking against a backdrop of original features, including huge ornate windows and high ceilings. Vintage railway posters line the walls with box trees and leafy ferns to soften the colonial-era grandeur.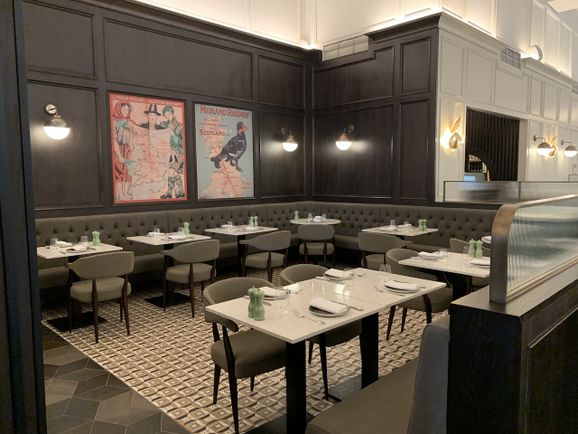 Mount Street's menu has been designed to replenish the weary traveller with classic and familiar dishes done well, with priority given to sourcing ingredients from the north. You won't find any mass produced, microwaveable meals in this hotel restaurant. It's the kind of classy place to bring your grandparents or your boss when you need a dependable dinner of solid contemporary British classics.
You'll find proper pies, a house cheeseburger, steaks from the grill (butchered in house from Yorkshire Limousine cattle and aged for 28 days), beautifully cooked fish dishes and, if you want to push the boat out, Mount Street's signature Beef Wellington (£80 for two to share with side dishes included.)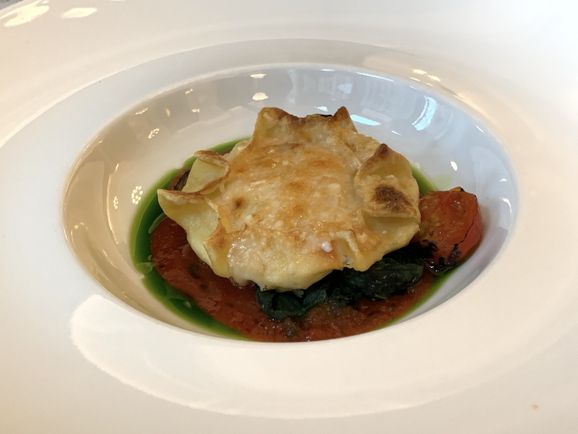 There are plenty of well thought out vegetarian choices too including a starter of baked ricotta ravioli with torched tomatoes, dandelion and crisp sorrel (£8.50) or spring green quinoa risotto with BBQ asparagus (£6.50). Our favourite starter was lobster crumpets encrusted with black and white sesame seeds (£15) – this is sure to become a signature dish. They're like the prawn toasts you get from a Chinese takeout but much bigger. And they're soft and spongy so they soak up the silky buttery pool of hollandaise sauce they lie in.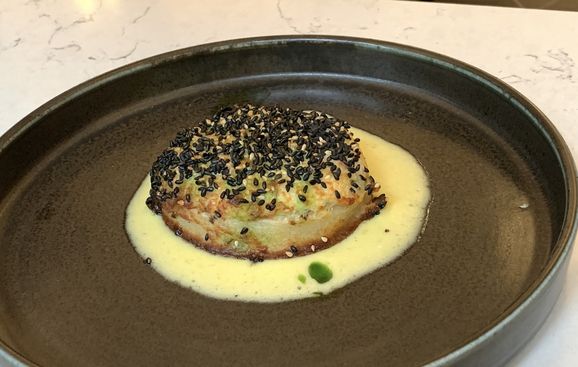 I fancied fish, so our server recommended grilled hake with lobster, baby leeks, orzo and sauce vierge. The fish was cooked perfectly on point and the orzo (tiny pasta that thinks it's rice) was wrapped up snuggly in a luxury coat of beurre blanc spiked with nuggets of lobster. Mount Street are great at classic sauces. The menu even has its own sauce section where you can order béarnaise, peppercorn, bordelaise or anchovy butter on the side for dipping everything in…maybe not the desserts, but that's your call.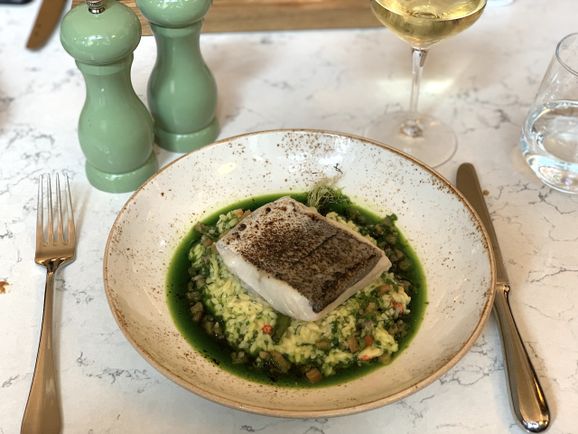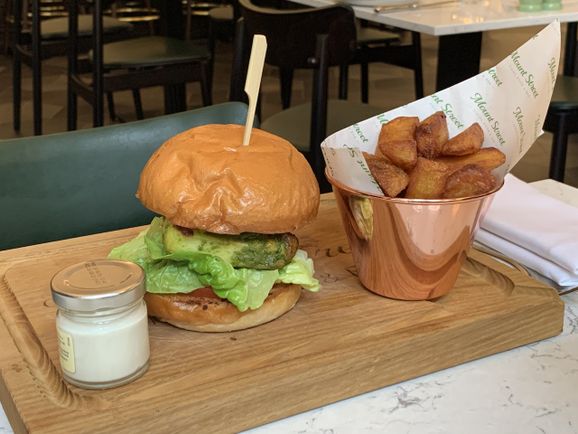 For range, we ordered a halloumi burger (£16 with chips). The delicious block of Greeky squeeky cheese was smothered in proper pesto and served in a potato brioche bun with a slice of beef tomato and house pickled cucumber. It all held together well but maybe a bit messy to eat on a first date, or with that boss you're trying to impress.
Desserts are obviously sweet by nature, but the ones we tried here were sweeter than a sugar-coated kitten in Candyland. Our server warned us about the honey pudding with lavender and white chocolate, but we just took that as a challenge. Of course, he was right, and we couldn't finish it.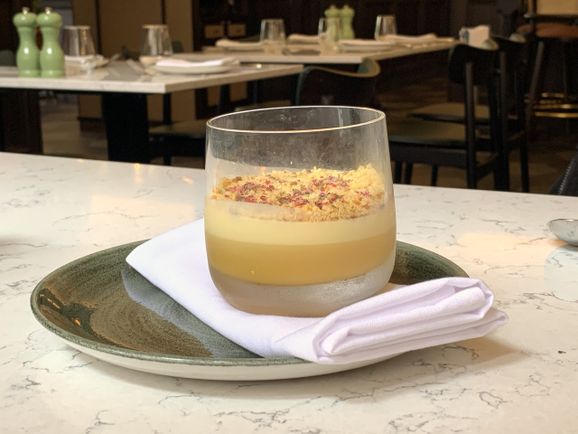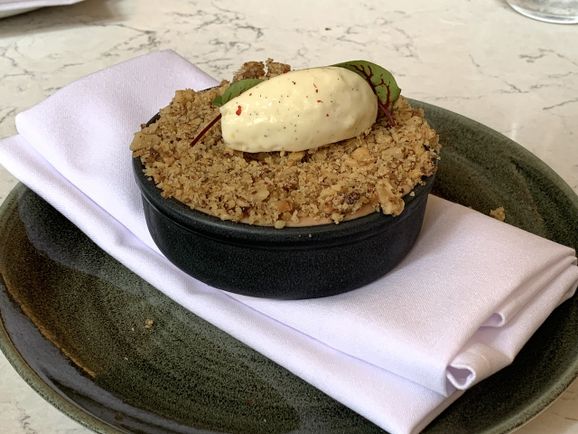 Same for caramel mousse with walnut brittle (£7.50) – although the clue is in the name. I only ordered it because it was the nearest thing to the caramel tart Mr Cooper's used to make. The Midland's exec chef Brian Spark has done away with that, which is a shame because it was one of the best desserts in Manchester. However, this mousse is the gift that just keeps giving. Spoon away the outer layer and more layers appear, chocolate mousse, soft caramel, then a diabetic coma. We reluctantly had to admit defeat.
I feel for Mount Street because it was all dressed up and ready to get going when covid struck, meaning it didn't get the brouhaha it deserved. On the day of our visit, the Midland Tea Room and the lobby bar area was buzzing, but the restaurant was quieter than it deserved to be at lunchtime.
It has its own entrance on Mount Street, so you don't have to trudge through the hotel to get to restaurant bar for a classic cocktail or a local beer (food and drink has a focus on northern suppliers.) Pop in for a drink and a few nibbles and stay for a meal of British classics Manchester can be proud of.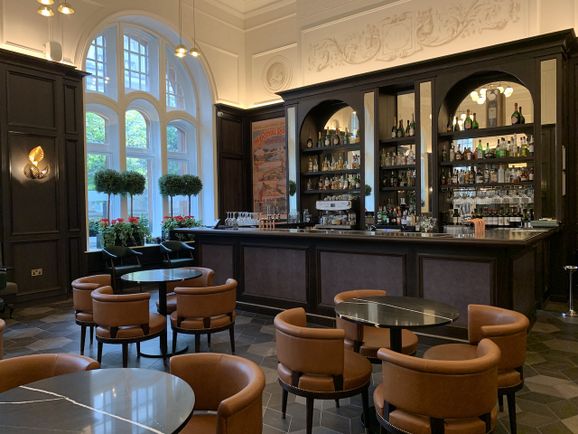 The restaurant is open seven days a week for dinner and lunch is currently available from Friday-Sunday.
Mount Street Dining Room & Bar, The Midland Hotel, Peter Street, M60 2DS