Tom Kerridge's Manchester restaurant, The Bull & Bear, has a new head chef. Well Connor Black is not new to Kerridge. The 25-year-old has worked for him for over ten years.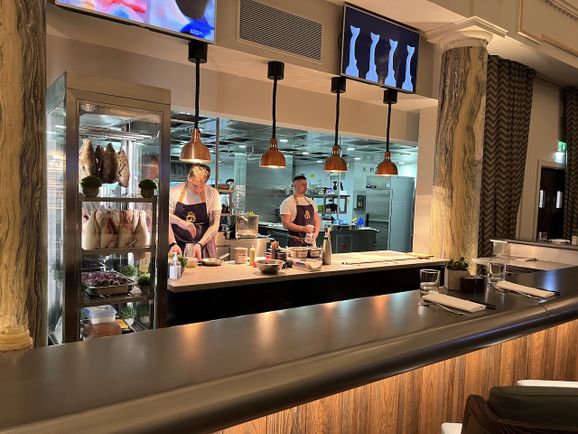 When he was fifteen years old, Connor wrote a letter to his culinary hero asking for a job. Tom took him on, and Connor worked his way up to the position of sous chef of Kerridge's two-Michelin starred pub in Marlow, The Hand & Flowers. Connor then became Head Chef of The Shed, the pub's ten-cover private dining room. Various other members of Connor's family now also hold pivotal positions in the Kerridge Group, so the initial approach paid off.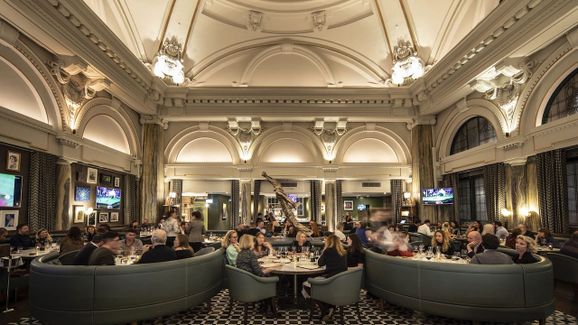 Now Connor finds himself up north for the first time. He can be seen heading the pass of the open kitchen in the grand domed 'bear pit' dining room which was previously the trading floor of the Grade II listed Stock Exchange. If you want a closer look, the 12 seats at the kitchen counter put you at the heart of the action. Connor's team also oversees The Bank, a bespoke private dining experience for up to 14 guests.
Although the new menu features dishes that Connor has developed, they closely reflect Tom's signature style of refined British classics – and each of them, Connor tells us, has had to pass a taste test from the big man himself in true Great British Menu style.
The food here comes at a premium price point, so perhaps it's more of an occasion place or somewhere to suggest when the boss is paying, but you pay for what you get; top class ingredients, traditional dishes and Connor's flair for maximising the flavour of each ingredient. The is a more accessible set menu of two courses for £24.50 and three courses for £29.50 available at lunch Thursday to Saturday and for dinner Tuesday to Friday.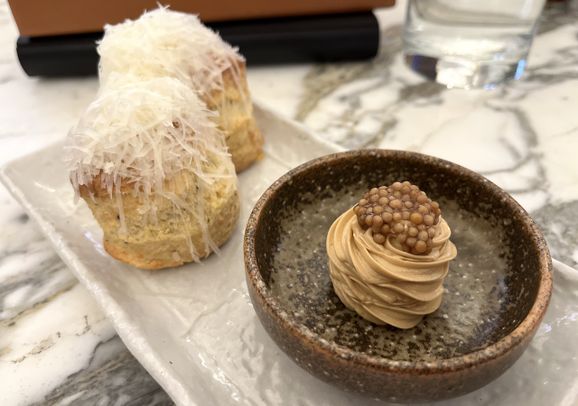 The menu begins with table snacks - in case you want something to nibble on while taking your time over the wine list. 28-hour sourdough bread has been sourced from local Pollen Bakery and is served with raw cold pressed rapeseed oil and West Country farmhouse butter. Even more indulgent are Cheddar cheese scones with whipped and piped Marmite butter.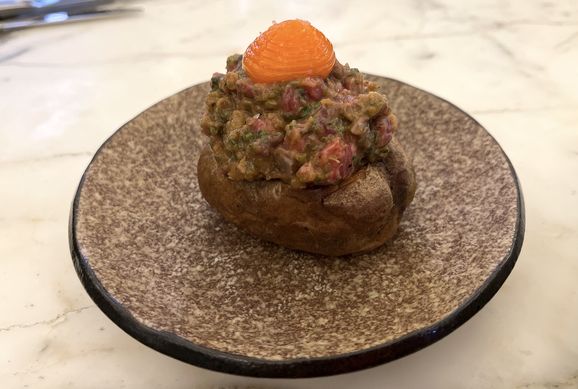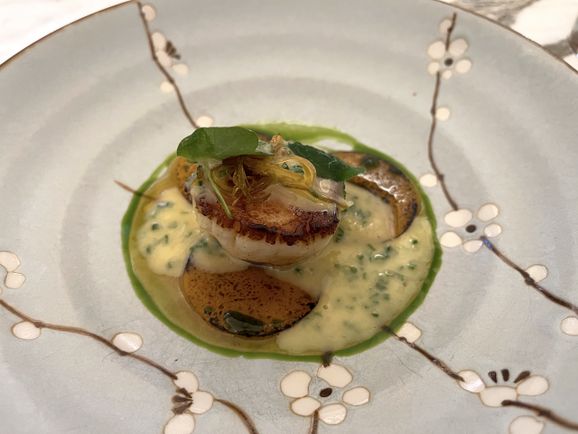 The menu is tweaked often with dishes appearing and disappearing according to seasonality and availability. Signature starters include a baked Linda Potato topped with créme fraîche and a tartare of raw steak, or roasted hand-dived Orkney scallop lifted by pickled Crown Prince pumpkin with smokiness supplied by a creamy smoked butter sauce which you pour on yourself. Little jugs of pour-your-own sauces come with quite a few of the dishes to make the experience feel a little more 'make yourself at home'.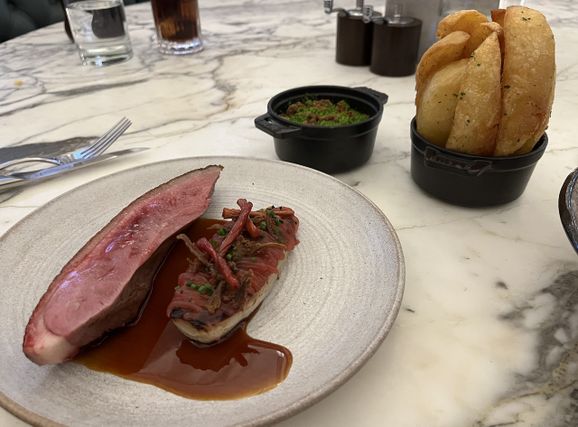 Mains include a rotisserie dry-aged Udale duck breast served pink with caramelised endive, and a 'cassoulet' of rhubarb and garlic sausage. We also tried roast Cornish cod with sweet garlic purée, sat on shredded lemon braised leeks with Shiitake mushrooms and a mushroom consommé.
Mains range around the £35 mark with the most expensive being a fillet of Hereford 28-day dry-aged beef at a whopping £49.50, but with that you get the whole kit and kaboodle; onion rings, tarragon and green peppercorn sauce and a chip 'dome' that could double as artwork.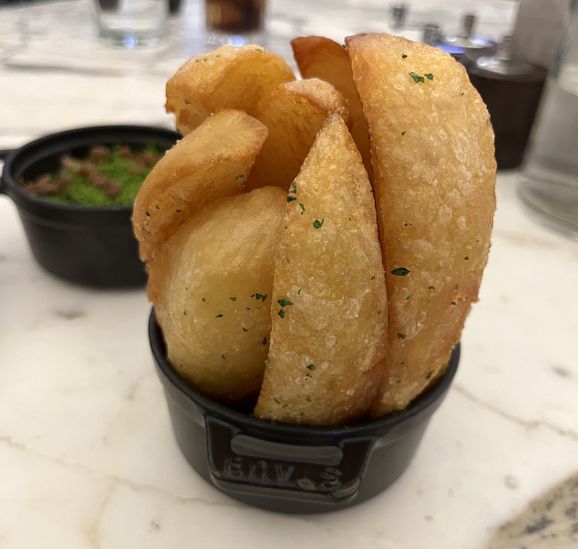 The Bull & Bear's Sunday roast was voted the best in the UK 2021 by Rate Good Roasts, and they offer a Sunday set menu with two courses for £39 and three courses for £46.50.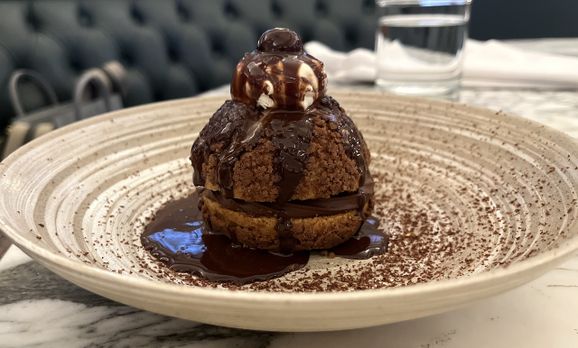 Desserts are worth making room for. A Black Forest choux bun confirmed some pastry section skill and the accompanying salted chocolate sauce is the kind of stuff that could easily put a temporary fix on a broken heart. Peanut Butter Crème Brûlée with Raspberry Jelly was lighter than expected (in a good way) and matched perfectly with the banana yoghurt sorbet it came with.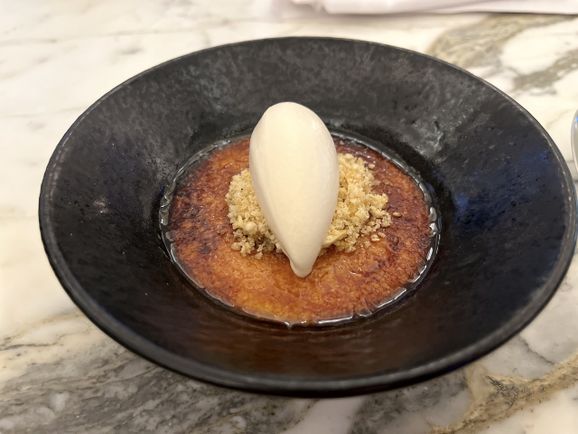 Head Sommelier Daniel Loughlin oversees the wine list which includes over 40 by the glass and bottles range from the accessible and easy drinking to the less accessible but equally easy drinking Château Petrus and Mouton Rothschild. The bar also offers cocktails and mocktails, locally distilled spirits as well as locally brewed beers and ale.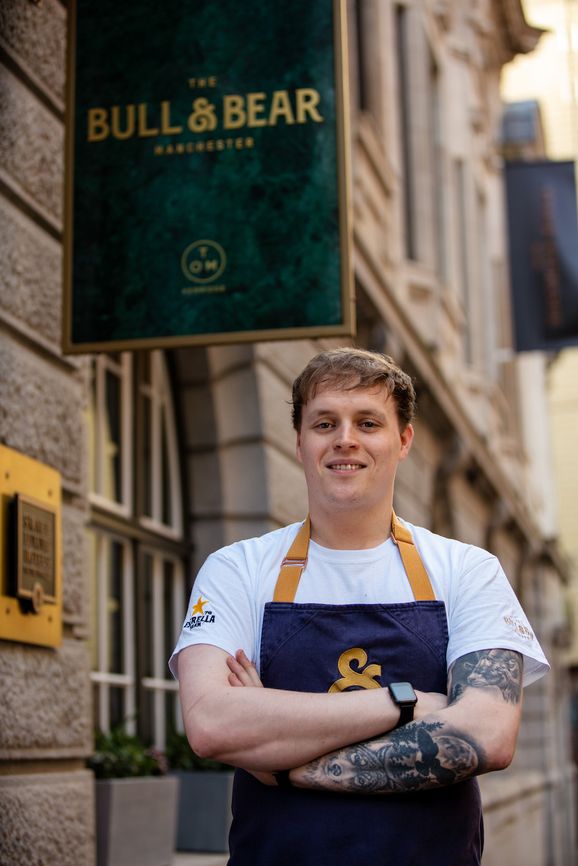 We had a quick chat with Connor before we left, and he told us that Tom recently found the original letter that he wrote asking for a job. He's signed it and Connor's going to frame it despite being embarrassed about the way it was written. But there's no need for him to feel embarrassed, it only proves how far this rising star has come.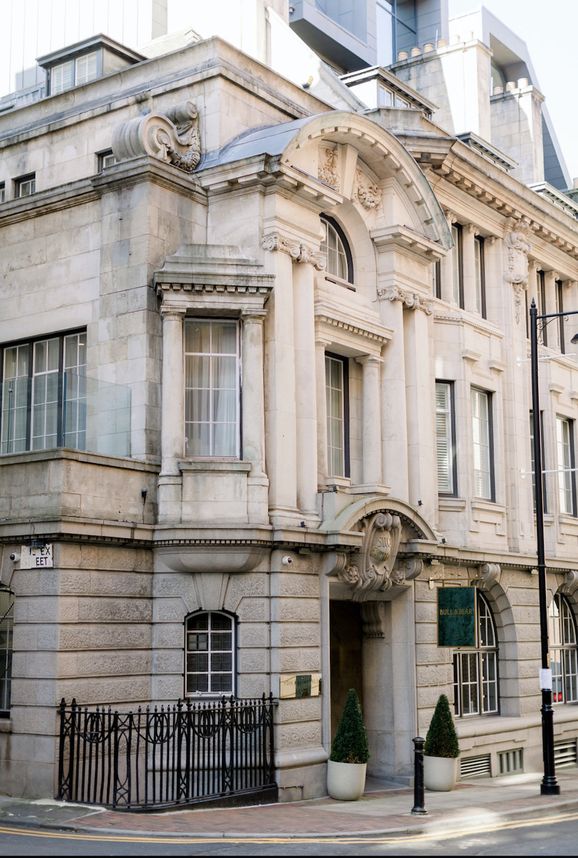 The Bull & Bear, Stock Exchange Hotel, 4 Norfolk St, Manchester, M2 1DW