Those who enjoy a cocktail in Manchester know that the wood panelled, softly lit bar at Hawksmoor on Deansgate is one of the best places in town, whether it's a classic you're after, or one of their special signature drinks.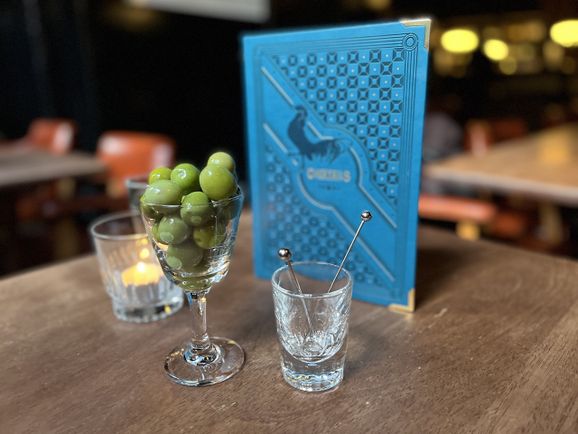 This week they've introduced a new bar menu – for both food and drinks – inspired by the fact that they opened a Hawksmoor steakhouse in New York in September 2021.
The research has taken three years – that's a thick chunk of time, effort, and patience. "It's about seven-tenths as long as the first walk around the world, one-eighty-fifth as long as a giant tortoise's lifespan and about 500 times as long as the voyage of the Titanic," say Hawksmoor – perhaps after sampling one too many spirits.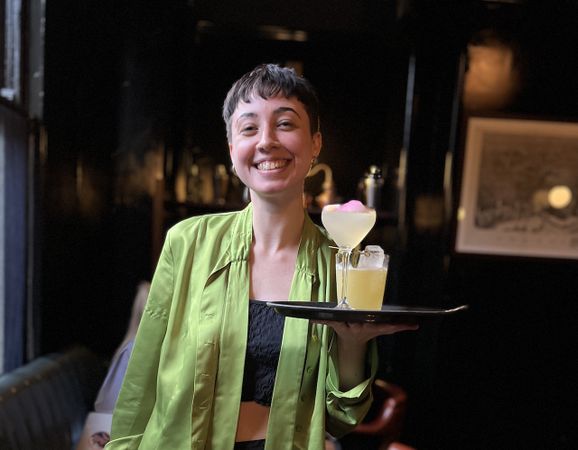 Drinks are all-new (except, of course, for the six sacred Hawksmoor classics) and have been divided into Sharpeners, Ultimate Martinis, The Second Golden Age, and Nightcaps, with additional pages devoted to 'temperates' (or 'what to drink when you're not drinking') as well as beers, cider and wine.
Skill, artistry and a level of detail make each drink special, involving painstakingly and creative processes from infusing wine, to finding ways to bring drinks to freezing point and discovering the best distillers.
Their New York home lies between Madison Square Park and Gramercy Park – a mere olive throw from the (probable) birthplace of the martini, one of the most classic steakhouse cocktails and widely considered to be the king of the cocktail world.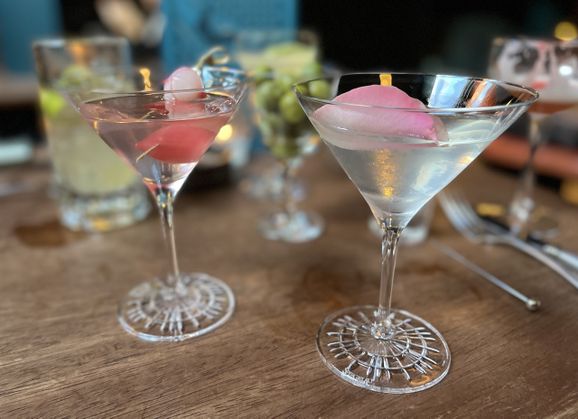 Hawksmoor's Ultimate Gin Martini introduces an insulated flask technique. Each drink is chilled to a bracing -12c and served to order from an insulated Yeti flask. The Pink Gibson is one for the hardened martiniphile – although the combination of Boatyard vodka, Audemus Umami Gin and pink pickled onion was a little too much for us.
'Sharpeners' include the gimlet – inspired by one that Head of Bars, Liam Davy had in Madrid about 20 years ago. Liam has finally nailed down that silky and vibrant multi-layered citrus flavour profile using Plymouth Gin infused with Rose's Lime Marmalade and lime leaves added to a cordial made from the lime zest, sugar, citric acid and coconut water. It's all mixed together and then poured over greek yoghurt (yes, yoghurt) and left to infuse for 6-12 hours before straining. The resulting liquid is stored in the freezer for service and served in a v-shaped martini glass with a mini apple.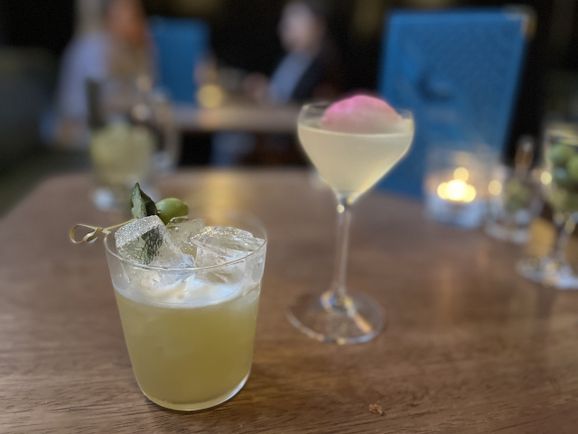 One of our favourites was 'ranchwater', a refresher from West Texas that's apparently taken the US by storm. This ultimate thirst quencher is made with Altos tequila, lime, and pineapple soda, with Hawksmoor's own addition of hopped soda and a little jalapeno, and served in a glass tankard.
It's not Hawksmoor's style to wallow in the dark era of the cocktail - when it was all lurid blue disco drinks and sex on the beach - so they've skipped past that phase to the mid-1990s when things began to improve.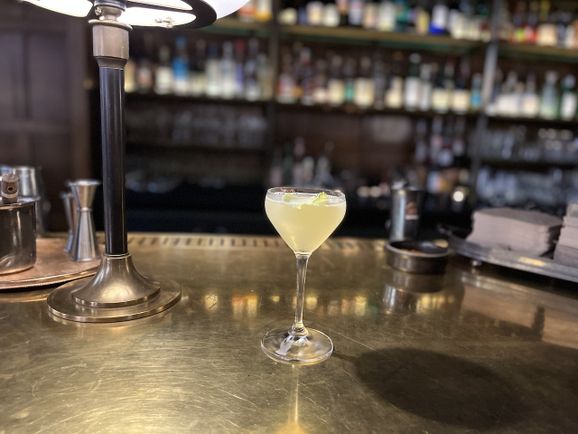 The Lychee Martini is a subtly sweet and fruity version of the punchy classic and quite a departure from the booze n' syrup original. The base is a Madagascan vanilla flavoured vodka from Portobello Rd distillery and Singani 63, a distinctly floral muscat brandy from Bolivia. Lychee liqueur and is sweetened with cucumber-infused agave, sourness comes from lemon juice and an orange wine with some added malic and citric acid all create a bright drink that's also a little tart.
Nightcaps include the Miso Mudslide (Cuban Rum, Eminente 7 y.o with a generous splash of Hotel Chocolat Salted Caramel cream liqueur all blended with clotted cream ice cream, dulce de leche, white miso, Horlick's powder, a generous pinch of salt and a splash of milk) and are the perfect after-dinner drinks for when you want something a bit extra.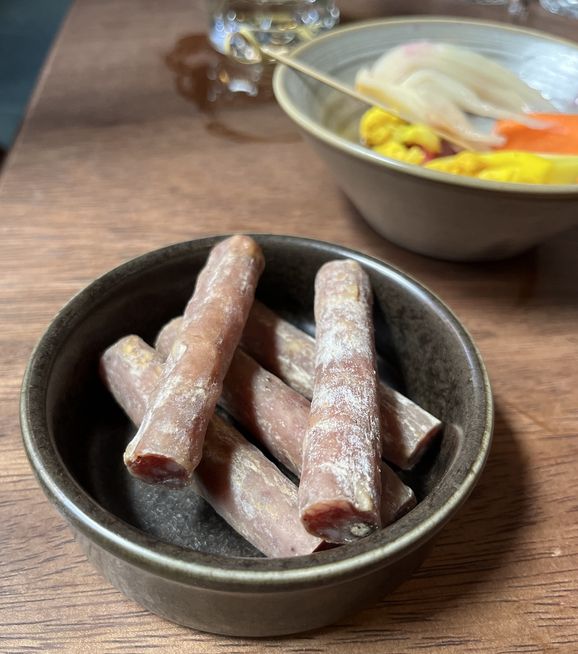 Need something more than a cocktail olive or pickled onion to line the stomach? We highly recommend the house pickles (£3) – cauliflower, fennel, beetroot, carrot, red cabbage and turnip, all pickled separately in subtly different vinegar and spice blends to create the best bowl of pickles in town by a country mile.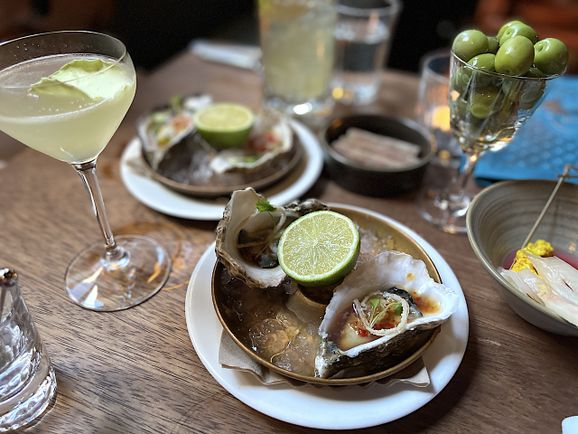 There are also four different types of fresh oysters served in three, six or a dozen – au natural, Vietnamese, Scotch Bonnet and Bone Marrow. We also recommend Hawksmoor's perfect 'beer sticks' (£5) which look and taste like a cross between the finest hand-crafted charcuterie and a Pepperami.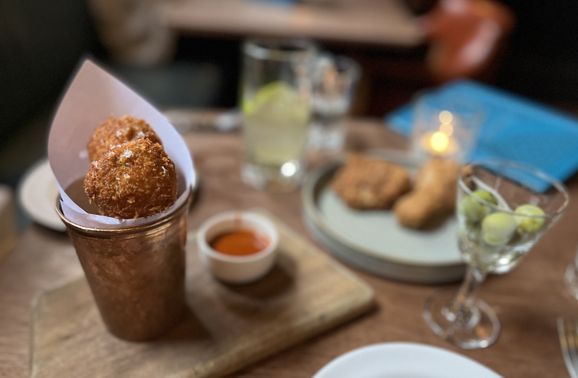 Fancy something a little more substantial? Try Fried Chicken with scotch bonnet vinegar and kimchi slaw, or the (much less fiddly to pick up) short-rib nuggets with a melting Ogleshield cheese centre and spicy kimchi ketchup. The Hawksmoor hamburger with Ogleshield or Stichelton cheese is also available in the bar along with a fried chicken sandwich with kewpie mayo, house pickles with triple-cooked chips or dripping fries.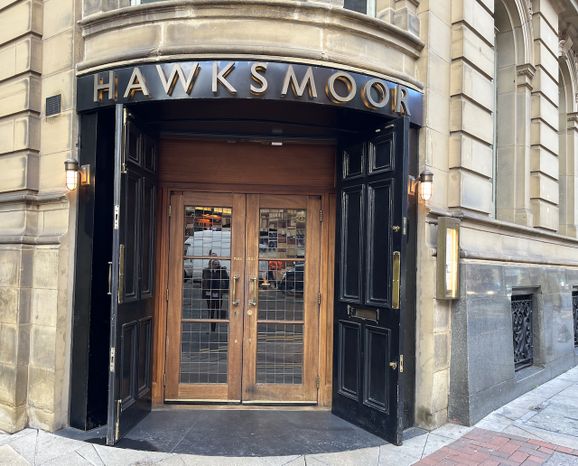 Hawksmoor's new bar menu is available in all Hawksmoor UK restaurants now (but ironically, not in New York...)
HAWKSMOOR MANCHESTER, 184 – 186 Deansgate, M3 3WB
Tel: 0161 836 6980
------
Also read: THREE LITTLE WORDS LAUNCHES DRAMATIC NEW AUTUMN/WINTER COCKTAIL MENU 'A FULL CIRCLE'