Innovative cocktail bar and restaurant Three Little Words, which sits within the Spirit of Manchester distillery on Watson Street, has launched its latest seasonal cocktail menu.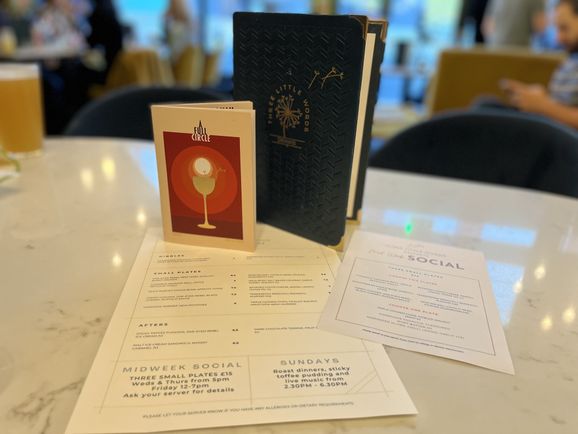 Autumn and winter are considered to be a period of reflection so 'A Full Circle' takes its inspiration from the history of the venue's Manchester home, exploring the past, present and future through drinks which tell the story of the city.
As with all menus at Three Little Words, the drinks are grouped into chapters; sweet, bold, delicate and dry, as well as sub chapters going into more detail. Maybe you should start with a simple house G&T while you explore each of the sections – choosing the right cocktail can't be rushed into.
The new menu starts with 'persistence and production' - An exploration of those that paved the way for us in a city famous for its science & industry as the birthplace of the industrial revolution. Showcasing Manchester's ingenuity & initiative, both past and present.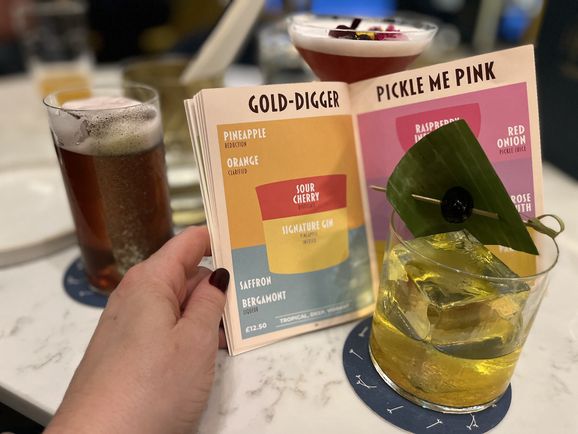 Drink highlights include 'Paint the Town Black' (£11), a long smooth drink made with Wild Spirit Gin with activated charcoal, beetroot and quince soda, chocolate stout with a gooseberry reduction and lemon. They describe it as sharp, deep and juicy but we found it much more delicate and balanced than we were led to believe with all those earthy ingredients.
The chapter named 'renaissance and evolution' has been Inspired by our industrious city, 'here we dive into innovation of our own, exploring modern techniques and trends in cocktail making' says the menu. We tried a couple from this section – including what might currently be the craziest cocktail in Manchester.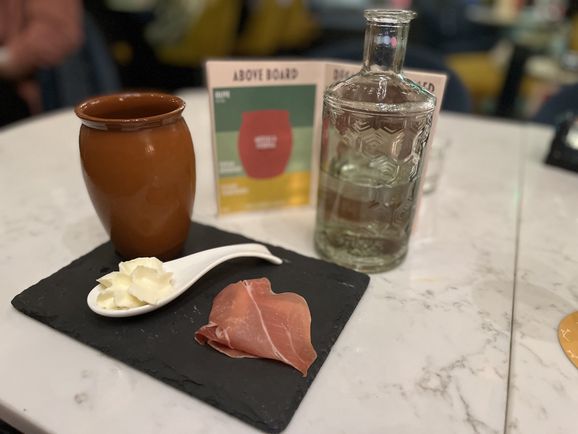 'Above Board' (£13) is served in a miniature clay amphora where both mezcal and tequila have been 'fat washed' with cured Spanish meat. There's also thyme infused forty five dry and yellow chartreuse. On its own it's quite medicinal and not for the faint hearted, but in a bizarre twist, it comes served with a slice of Jamon and a piping of umami-packed hammy cream. It's not until you try all the components together that the drink becomes the sum of its parts and the flavours come together in a smooth, creamy, boozy hit.
Much less challenging was 'down with the ship' (£11.50) an elegant and zesty mixture of grapefruitcello gin, pine liqueur, lemon, pineapple and blackberry ferment and cherry Heering.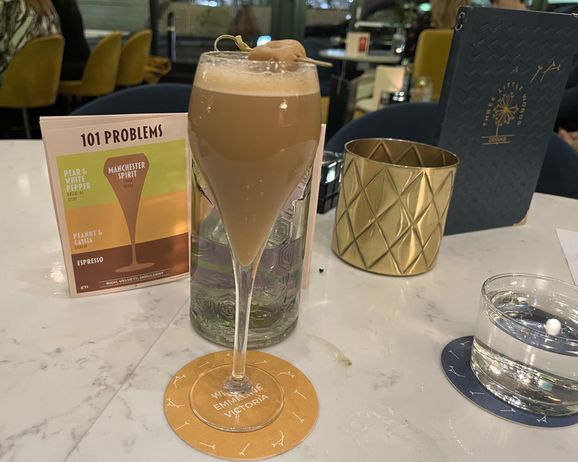 Spirit and Exploration 'nods to the origin of each spirit created in the on-site distillery whilst showcasing its evolution and individuality.' I rounded the night off with 101 problems (£11), a dessert cocktail, made with Tonka infused Manchester Spirit vodka, pear and white pepper dulce de leche, peanut and cassia liqueur and espresso. It was rich, velvety and indulgent but surprisingly not too sickly or sweet.
A couple of highlights from the final section, 'drams and devotion' include Gold Digger, a stripped back and contemporary version of a tropical Singapore Sling with pineapple, saffron and sour cherry.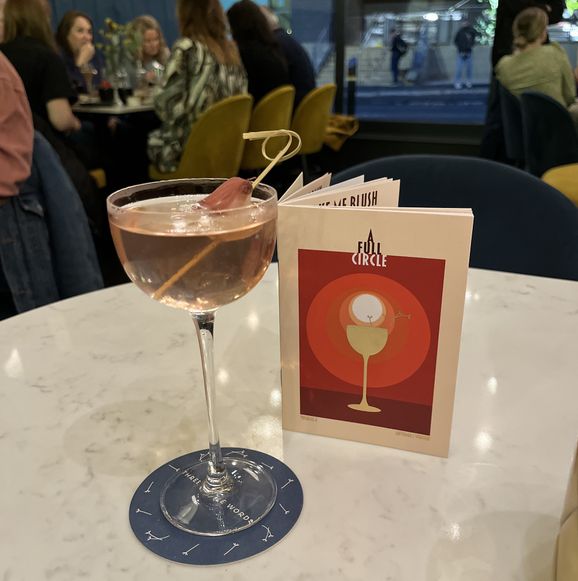 There's also Pickle Me Pink (£12) - a pink peppercorn twist on a classic Gibson cocktail with sweety savoury notes of red onion pickle juice and honey roast parsnip balanced by their best-selling raspberry gin and rose vermouth.
Each drink is like a work of art containing several ingredients and techniques including charcoal activation, fat washing, vacuum distillation, fermented fruit, infusions and reductions – to create evenly balanced and well thought out drinks.The crystal clear and smooth Silver Linings, made with toasted flaxseed infused vodka, is even garnished with an origami crane.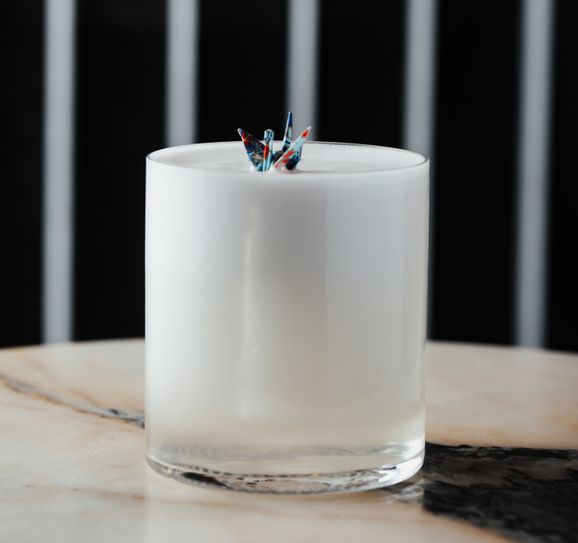 Along with a gin-making school, the grade II-listed arches of Three Little Words also incorporates a restaurant offering a selection of small plates designed to accompany the drinks – in fact many dishes even incorporate a few of the house spirits as marinades and dressings.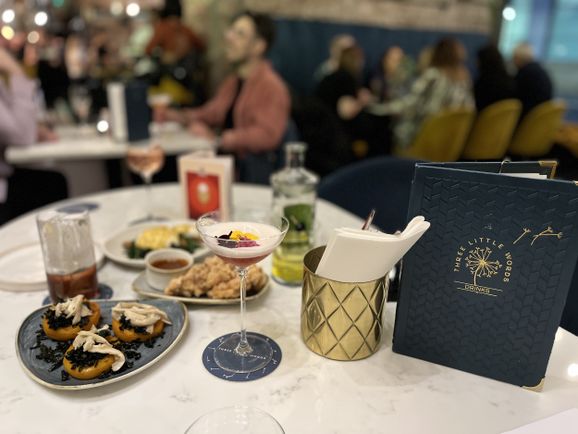 Visit their website to see the entire 'A Full Circle' cocktail menu, the restaurant menu, and to find out more details of upcoming events and classes.
Three Little Words, 10-15 Watson Street, Manchester, M3 4LP
------
Also read: TAKE A LOOK AT STERLING, THE NEW BASEMENT COCKTAIL BAR AT THE STOCK EXCHANGE HOTEL